Day 3 :
Symposium on Microbial safety of minimally processed produce and fresh-cut fruits by Dike O. Ukuku, USDA ARS-Eastern Regional Research Center, USA
Location: Grand ABC
Track 4: Food Technology Applications Track 5: Agri-Biotechnology Track 10: Current Research in Food Science and Technology
Location: Grand ABC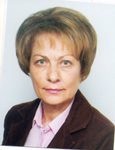 Chair
Mirjana Menkovska
UKIM Institute of Animal Science
Macedonia

Co-Chair
Yanyun Zhao
Oregon State University
USA
Session Introduction
UKIM Institute of Animal Science
Macedonia
Time : 10:00-10:20
Biography:
Mirjana Menkovska is full Professor at the Department of Food Technology and Biotechnology at the Institute of Animal Science, Sts.Cyril and Methodius University in Skopje, Macedonia. She's background is Food Technology. She graduated at the Faculty of Technology and Metallurgy in Skopje in 1976, took M.S. Degree in Instrumental Analysis at the same University in 1982, and Ph.D.Degree in Food Technology at the University of Belgrade, Serbia. She was research visiting scientist at GMRC in Manhattan, Kansas, USA, during the academic 1985/86, at Cereal Research Institute in Detmold, Germany in 1997, and at many other known research centers in Europe. She published more than hundred thirty papers in domestic and foreign scientific journals; and participated at more than sixty scientific meetings in the country and abroad. She was for a long time member of AACC, RACI and ICC National Delegate, and member of many Scientific Committees at international and domestic scientific conferences.
Abstract:
The subtlety of the rulling and preservation of the royal gelly from the beehive has contributed in the last 100 years many research teams and leading scientists around the world to work on the same topic in this area. The scientific-skilled and managing team of the Golden Bee (Zlatna Pchela) has been working during the last 15-year period on research and dose of royal jelly. The technologycal development has also enabled the team to produce with success products in which the royal gelly should be packed, and preserved, bioactive stable and correctly dosed at the same time. This innovation has enabled an application of the royal gelly to all age population categories including children, pregnant women, diabetics, sportsmens and the other, no matter what their sex is. The action of the royal jelly products as functional food has proved that they have saved the treasure of the all minerals, vitamins (from B1 to B12) pantothenic acid, simple sugars, 23 amino acids and unsaturated fats, as well as above 105 biostimulators and 85 native antibiotics. The adopted on this way royal gelly was taken in through the mouth keeping its power of detoxification, nutrition and regeneration of the human cells. The usage of this shape of the royal jelly during the last 15-year period has proved the effect of the royal gelly on the human organism in prevention, prophylaxis and healing. During this period laboratory and clinical investigations were conducted on 500-1000 patients from each medicinal area, what was the subject of an elaboration, whereas prevention was undertaken of above 100 000 users originating from many European countries including Serbia, Macedonia, France, Chech Republic, Kosovo and other countries.
Oregon State University
USA
Time : 10:20-10:40
Biography:
Yanyun Zhao is a Professor in the Department of Food Science & Technology, Oregon State University (OSU), USA with combined research, extension and education responsibilities in value-added food processing. As the author or co-author, she has generated over 90 peer-reviewed publications, edited 2 books, hold/filed 5 patents, and provided over 30 workshops and/or short courses to the processed fruit and vegetable industry. She is a 2012 Fellow of the Institute of Food Technologists (IFT), editorial board member of the Journal of Food Processing & Preservation, and Journal of Food processing & Technology.
Abstract:
Wine grape pomace (WGP) is underutilized bio waste from winemaking. There is a great need for developing new utilization of this bio-residual, especially in the area of converting pomace into value-added products. Several studies on WGP from US NW region were conducted for the goal of developing their new value-added applications. These included 1) determining bioactive compounds (dietary fiber and phenolics) and basic chemical compositions of different varieties of red and white WGP; 2) evaluating the effects of different drying methods for the retention of bioactive compounds in WGP and their applications as "antioxidant dietary fibers (ADF)" in different types of food products; 3) investigating the feasibility of developing WGP extracts based edible films and their antioxidant and antimicrobial functions; and 4) studying the internal bonding performance of WGP with binding materials, crosslinking agents, and other functional additives for producing WGP based bio composite boards using thermo-compression method and their application as biodegradable nursery pots. The studies quantified the dietary fiber and phenolics composition of different WGP which are critical for developing their potential applications, identified the optimal drying methods for processing the wet WGP, developed new applications of WGP as ADF in yogurt, salad dressings, and bakery goods, and optimized formulation for making WGP bio composite and edible films as packaging materials. The development of value-added products from WGP would benefit wine processors by adding values on the wine processing bio waste, and benefit the society by the reduction of waste, potentially lower cost and substitution of renewable, sustainable, and domestic materials.
University of Ljubljana
Slovenia
Time : 10:40-11:00
Biography:
Irena Rogelj has completed her Ph.D. in 1990 at University of Ljubljana (Slovenia, EU). She was appointed as full professor in Dairy Science and Nutrition in 2003. She is the head of Institute of Dairy Science and Probiotics at Biotechnical Faculty, University of Ljubljana. Her main research topic are lactic acid bacteria (LAB), the use of LAB as protective starter cultures or probiotics, control of probiotic products (foods and food supplements) and the role of human milk in development of breast fed child's intestinal microbiota. She has published more than 25 papers in reputed scientific journals.
Abstract:
Scientific evidence of probiotic benefits on human health is continuously expending but many of the trends currently affecting the probiotics market are related to the global regulatory movement. Although hundreds of products are marketed as probiotics, many of the strains they contain haven't been evaluated sufficiently. In addition, there are still no official or generally accepted methods for the analysis of probiotic products, where quantification and strain identification are crucial. Legislation on food supplements is partially harmonized at the EU level in the frame of a regulation on nutrition and health claims made on foods. Perhaps the most difficult challenge for research on probiotic products is providing proof of efficacy in healthy individuals. In clinical trials, the efficiency of probiotic intervention has to be relied on well-documented effects measured with reliable biomarkers independent of the subjective criteria according to which a subject feels healthy. Where pathogenesis is not present or it is not completely understood, the efficacy of probiotic treatment is often evaluated according to the perceived improvement of quality of life. A wide variety of host, dietary and environmental factors that affect gastrointestinal micro biota additionally make clinical studies difficult. The significant effect of probiotic prevention or supportive treatment failed frequently due to small number of participants in the survey. As EFSA rejected all general claims about probiotics so far, food supplements are at a crossroads. Many recent probiotic studies are already focused to specific health problems instead of general well-being and it might be expected that increasing number of probiotic products will be registered as drugs.
Break:
Coffee Break 11:00-11:15 @ Grand Ball Room Foyer
United Arab Emirates University
UAE
Time : 11:15-11:35
Biography:
Isameldin B. Hashimhas completed his Ph.D. at the University of Georgia, Athens, GA. USA. He is an Associate professor at the Food Science Department, College of Food and Agriculture, UAEU. He has published more than 35 papers in reputed journals.
Abstract:
The United Arab Emirates (UAE) is the fourth leading country producing 12% of the world palm dates (FAO 2010). Date seed, major by-products of the date fruit processing industry, accounts for approximately 10% of the fruit weight. Date seeds are composed mainly of dietary fibers (75-80%) and are an important source of polyphenols and natural antioxidants. Consumption of dietary fiber has a protective effect against the development of diet-related disorders (cardiovascular disease, type 2 diabetes, high cholesterol levels) while polyphenolic compounds and antioxidants are associated with decreased incidence of cancers. Functional pita bread was produced by replacing 5, 10, 15 and 20% of pita bread flour with date seed powder (DSP). Bread made from wheat flour and whole wheat flour was used as controls. Previous studies indicated that pita bread containing DSP had similar nutritional properties as regular and whole wheat breads with higher fiber, flavonoids and antioxidant capacity. Sensory properties and consumer acceptance of the bread samples were investigated. DSP incorporation affected pita bread appearance and color significantly. Appearance quality of pita bread decreased with increasing the level of DSP. Pita bread containing 5% DSP had better sensory quality compared to whole wheat pita bread. Pita bread containing 10% DSP had similar sensory quality as the whole wheat bread pita bread and increasing DSP level above 10% significantly decreased bread sensory quality. Acceptable and high quality functional pita bread (excellent source of dietary fiber, flavonoids and antioxidants) could be produced by incorporating up to 10% date seed powder.
TABK College for Women
India
Time : 11:35-11:55
Biography:
Sumayaa dawood is an Associate Professor at Thassim Beevi Abdul Kader College, Ramanathapuram, Tamil Nadu, India.
Abstract:
An aromatic herb in the mint family, thyme grows to a height of fifteen inches with small rounded leaves and pink flowers on woody stems. Thyme is also a good source of iron, phosphorous, potassium, zinc and manganese. Thyme leaves were collected from Kodaikanal hill area. The collected fresh thyme leaves were washed and the immature parts removed. After that the leaves were shadow dried at 27-37ºC and the leaves were made into powder by using mixture grinder. Micro and macro nutrients such as carbohydrate, protein, fat, calcium, phosphorus, iron and crude fiber of thyme powder were estimated and thyme powder was found to be rich in iron, phosphorous, small amount of carbohydrate and moderate amount of fat content. Phytonutrients such as beta carotene, phenol and polyphenol were estimated by quantitative method. The thyme leaf powder was subjected to antimicrobial analysis by using disc diffusion method. The tested microorganisms were Staphylococcus aureus and E.coli. The sensory evaluation was done by a panel of twenty expert using A 5 point hedonic scale. Five recipes were prepared with and without incorporation of the developed thyme leaf powder. Thyme leaf powder was incorporated in 2%, 4% and 6% level in tea, noodles, pacoda, channa masala and chilly chicken. Only 2% and 4% thyme leaf powder incorporate recipes were acceptable, because increasing the amount of up to 1% brought considerable changes in taste of recipes. This result of study encourages the incorporation of this locally available ingredients pumpkin seed in various indigenous products which might be helpful for promoting health.
Anna University
India
Time : 11:55-12:15
Biography:
P. Ayyappan has completed M.Sc. Microbiology in the year of 2009 from Bharathiyar University, Coimbatore, Tamil Nadu, India. In 2010 he has joined Ph.D. program in the Department of Biotechnology, Anna University, Chennai, India, under the guidance of Dr. Usha Antony. His area of research is Food Science & Technology. Currently he is working as a Senior Research Fellow in the SERB/MOFPI funded project on Prebiotic Xylooligosaccharides.
Abstract:
Prebiotic health benefits in potentiating the function of probiotics and promoting gut health is steadily gaining scientific substantiation. . Hemicellulose is rich in xylan, a polysaccharide that can be used for production of xylooligosaccharides (XOS), considering the potential market demand of XOS in food and pharmaceutical industry. Xylooligosaccharides (XOS) are sugar oligomers made up of xylose units. In the present investigation, water soluble polysaccharides (WSP) extracted from rice bran and finger millet CO 9 seed coat were 29.0% and 24.0% respectively. The hemicelluloses content in rice bran and finger millet seed coat were found to be 50.0% and 40.0% respectively. FTIR spectra of WSP were recorded to identify the functional groups. Thermal analysis of the WSP with thermal gravimetric analyzer and differential scanning calorimeter showed both WSP and standard beech wood xylan were highly thermostable. Morphology, particle size, crystal structure and H1 NMR studies of WSP indicated that rice bran and finger millet seed coat contain xylan. The presence of β linkages of XOS was evident on treatment of WSP with xylanase. We aim to characterize the XOS and study the prebiotic efficacy of these fractions of XOS. Hence, research in this area has a high potential for generation of scientific information and development of viable methods for value-added functional food ingredients.